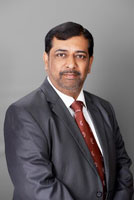 When Croatia"s PR fraternity announced the name "Yogesh Joshi" among their 2017 "PRO.PR" awardees, it was one more instance of the world noticing Indian talent. For Yogesh, it meant one more moment in the spotlight of global recognition. It reminded him of the first time he stood on an international stage. In 2008, he was invited by Institute of Public Relations Singapore (IPRS). In February 2012, he was the first Indian Professional invited to speak at the World Communications Forum (WCF) in Davos, Switzerland. Later that same year he was inducted on the WCF Board as Regional Representative to oversee its programs and seminars in India and South East Asia. In 2014, he was elected Chairman of WCF.
The latest accolade "International PR Man of the Year" from Croatia drives home his point that one"s professional footprint may be limited geographically, but the excellence achieved should be comparable internationally. Yogesh"s work and contribution to the field serve as examples of such global outlook.
He was re-elected President of the Association of Business Communicators of India (ABCI) Seven times and has raised the bar many times. He also made ABCI financially strong and self-sustaining, an accomplishment lauded by all especially his predecessors. As a forum for communication professionals, ABCI has achieved far greater glory under his leadership than it had in all its 60 years since inception.
Recently it celebrated the 56th ABCI Annual Awards Nite, a milestone no other professional body can boast of. In recent years, the ABCI Awards have attained a high status. They are now considered the "Oscars" of Indian Communication Industry.
Besides exemplary leadership Yogesh has also demonstrated pioneering spirit by introducing accreditation for PR and communication professionals. He founded the "Brains Trust" of ABCI which awards Fellowships to senior and accomplished professionals.
In his personal journey he continues to add milestone after inspiring milestone. In March 2008, the internationally acclaimed highest title in PR profession "Hall of Fame" was conferred on him by the Public Relations Council of India. In April 2009, he received the "Golden Triangle Award" from Mr Anam Ramanarayana Reddy, Hon"ble Minister for Information & PR, Government of Andhra Pradesh. The Award is instituted by the Global Forum for Public Relations, Hyderabad. In April 2010, Yogesh was once again honoured by PRCI, this time with "PR Man of the Year" award.
Being a self-driven achiever, Yogesh finds his journey so far, quite fulfilling despite all the trials and tribulations. Over 35 years ago, he was like any other aspirant in PR – a youth with a post-graduate degree in Mass Communications and big dreams in his eyes. The years brought a wealth of experience and insights, which he gladly shared with young aspirants through his teaching engagements. As visiting faculty he has taught PR and Communications Management at (1) Bharatiya Vidya Bhavan, (2) NMIMS, (3) Symbiosis (Puna), (4) Manorama Institute of Mass-Communications and (5) SCMS (both in Kerala), (6) MICA (Ahmedabad) and (7) Makhanlal Chaturvedi University (Bhopal). He has also been on the Board of Studies of Manipal University.
The PR fraternity and the media know Yogesh as an eminent communication professional, as the "driving force behind ABCI", as "the man who single-handedly elevated Indian PR to international status". Despite such popularity, some aspects of his life are largely unknown.
Yogesh is also an accomplished classical vocalist, having trained for 24 years under the guidance of his music guru – celebrated vocalist Padma Shree Pandit Jeetendra Abhisheki. The guru knew he had chosen his pupils well; for this aspirant went on to win the 1st prize in a music competition conducted by All India Radio in 1983, both in vocal classical and vocal semi-classical and a group song that he composed.
For a person who continues to be passionate about music and had achieved such proficiency in vocal classical, it seems rather unusual that Yogesh did not pursue it as a full time career. There"s a reason why he did not. In those days, a career as a classical musician could never assure stability. And for a conservative Brahmin family, stability is always priority. It meant settling down with family, a good job, a good house and social standing. Being an obedient son, Yogesh yielded to his mother"s wish and applied for a job. He didn"t have to wait long. His excellent academic records and communication skills were noticed by India"s leading industrial group – Tatas who immediately appointed him. And since June 1982, Yogesh has been with the Tatas overseeing Corporate Affairs and Communications.
Yogesh was once equally passionate about theatre and has acted in Indian plays under the direction of noted stage personalities like Sai Paranjpye and Sudha Karmarkar. Yogesh is also a qualified astrologer. Though just as proficient as any other astrologer, Yogesh does not seek clients, nor does he charge a fee when consulted by friends and associates.
As we have seen, life for Yogesh Joshi is not always about work. There"s music, which he says, shall always be "close to his soul". There"s also travelling, reading, writing, bonding with the family and fulfilling social responsibility. No matter how busy life keeps him, Yogesh always finds time to go out of his way for people who need help. So far, more than 3800 cancer patients have benefitted from Yogesh"s benevolence.