Yogesh Joshi, President of the Association of Business Communicators of India (ABCI), is now an Honoured Member of the newly formed Uppermost Board of the World Communication Forum in Davos!
The WCF Board unites a group of outstanding communication professionals from 20 countries across 4 continents. The Board's aim is to shape up and promote a global community of communication professionals, standing above any political, ethnic, religious, or other differences. The Board will also strive to secure a free expression of professional opinion, mutual understanding and co-operation, and, above all - to support the development of the communications industry worldwide, especially by fostering further increase in its social status and business value.
As a body of communication professionals, the new Coordinating Board will have three co-Chairmen, elected by the Board members:
Andre Manning, Vice President of Corporate Communications at Royal Philips Electronics, the Netherlands;
Maxim Behar, Chairman of Hill+Knowlton Strategies in the Czech Republic, CEO & Chairman of the Board of M3 Communications Group Inc., Bulgaria;
Yanina Dubeykovskaya, WCF-Davos Content Director, Russia, Austria, Switzerland;
Here is what the co-Chairpersons shared about the summit's bright future.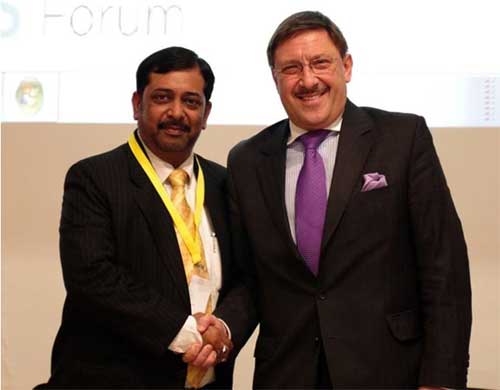 Maxim Behar (right) shaking hands with Yogesh Joshi
Maxim Behar stated: "Being with the Forum in Davos since its very first edition, I feel the huge responsibility for its development as a leading world's public communications event. It means that all Board members must follow the novelties in our business on a daily basis in a way that next year we have a completely new and more useful program for the participants. It is a major responsibility, as one of the Chairmen, to lead this process and raise the Forum's branding and positioning. It is a great place of exchanging ideas and in our business ideas drive the whole world."
Yanina Dubeykovskaya added: "We need a new committee with fresh energy and ideas for developing the Forum in a really global direction, and for organizing regional events. A week ago we had one in Moscow and we are starting the preparations for WCF-Davos/Prague and WCF-Davos/Mumbai."
The Board members shall have the exclusive right to give suggestions on the annual Forum's agenda, to recommend communications experts as speakers, to make nominations for the prestigious C4F-Davos Awards and vote for the winners. All of them are highly-recognized well-established communications professionals from around the world:
Alexander Anisimov, Executive Director of WCF-Davos and Top Communications GmbH, Austria, Russia;
Yogesh Joshi, President of the Association of Business Communicators of India (ABCI), Mumbai, India. (In photos, Mr. Maxim Behar congratulates Mr. Yogesh Joshi on his appointment of the BOARD and Core Team of WCF)
Alfred Koblinger, CEO of BBDO Holding, Austria;
Casey Lau, Hong Kong, tech start-up pioneer, co-founder of StartupsHK, Community Developer for SoftLayer's Catalyst Startup Program, Hong Kong, China;
Daniel Hӧltgen, Director of Communications at the Council of Europe, France;
Dymitr Romanowski, Co-founder and CEO of The Story digital branding agency, Poland;
Francis Ingham, Director General of the UK Public Relations Consultants Association (PRCA);
Gary Grates, Principal at WCG Worldwide, ex-President and Global Managing Director of EDELMAN Change and Employee Engagement, USA;
Gianni Catalfamo, European Digital Director, President - Ketchum Pleon, Italy;
James Gillies, Head of the Communications Group at CERN, Switzerland;
Juan Carlos Belloso, Director at Future Places: Place Competitiveness and Development, Barcelona, Spain;
Lorena Carreno Diaz, President of the Mexican Association of Public Relations Professionals (PRORP);
Natalia Belenko, Founder of Top Communication GmbH, Russia;
Nurul Ashiqin Shamsuri, CEO of Lubri Oil Corporation SB, Malaysia;
Paul Holmes, Founder and CEO of The Holmes Report and the SABRE Awards, UK;
Philippe Borremans, Chief Social Media Officer Van Marcke Group, Belgium;
Rui Martins, Corporate Communication and Public Affairs Director at Dianova, Portugal;
Sergey Zverev, Founder and President of CROS PR&PA, Russia;
Stephen Davies, Senior Consultant at 33 Digital, UK;
Stuart Bruce, Digital Corporate Communications, Online PR trainer & consultant, UK;
Sultan Al-Bazie, CEO of Attariq Communications Chair of IPRA Gulf Chapter, Saudi Arabia;
Svetlana Kananykhina, CEO of Event Life Communication, WCF-Davos Event Director, Russia;
Valery Levchenko, Deputy Editor in Chief at RIA Novosti, Russia;
Yannis Freris, Director of Corporate Communication & Sustainable Development at GEFYRA S.A., Greece;
You can find out more at: http://www.forumdavos.com/committee
The World Communication Forum has had 4 editions in Davos, Switzerland. Its main idea is to unite trend-makers and influencers from the communications elite and to provide a platform for discussion focused on the future development of communications, their role in business, society, and politics. Since 2010 the Forum has registered a hundreds of international partners and associations, speakers and participants from 40 countries across 5 continents. The crystal of the Forum is C4F (Communication for Future) Davos Awards for top professionals in different aspects of the communications industry.
Contacts:
Kalina Toncheva,
PR Manager at Top Communication GmbH
mobile: +359 895 660 628,
е-mail: press@forumdavos.com
website: www.forumdavos.com
Official profiles:
Facebook: http://www.facebook.com/WorldCommForumDavos
Twitter: http://www.twitter.com/WorldCommForum
YouTube: http://www.youtube.com/forumdavoscom