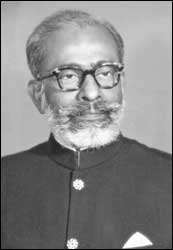 The Founder President of ABCI - Mr. Victor Paranjoti.

He was Chief of Public Relations of ACC Cement in the Fifties. After having retired from ACC, he was employed by Times of India as its First National Business Editor.

Dr. Paranjoti was an active promoter of professional communications. He was founding President of the Indian Association of Industrial Editors. Even in this role, he was a pioneer, resulting in giving recognition to the editors of "house journals" of major corporations.

He himself started editing house journals besides his own company, to set the trend and train professionals. Caltex and PTI-Reuters house journals were first launched by him. In addition to the print media, he was also influential in Air India Radio as a conductor of the programmes due to his excellence in spoken english.
Besides his career in Public Realtions, Mr. Victor Paranjoti was a great connoisseur and composer of Western Classical Music. Paranjoti Choir was also his creation like IAIE.

ABCI pays a great homage to its Founder Mr. Victor Paranjoti.